---
<! End Demo Code>














---
---
All-Con 2014 Teaser Art!
May 21, 2013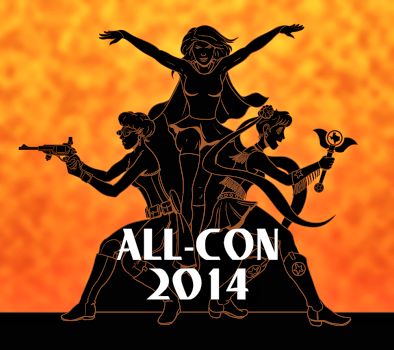 With the skills of Jason Chalker ManlyArt.com leading the charge, we present the All-Con 2014 teaser art for our 2014 theme: "A Gathering of Heroes". This March will be All-Con's 10th Year celebration and our first year with a four-day format! March 13-16, 2014. Mark your calendars and buy your badges!
All-Con Badges: 4 days for the price of 1!
March 23, 2012
All-Con badges cost less the farther out you buy them. Right now (through June 30, 2013) they are as cheap as you're going to get them... $35 for the entire 4-day convention! That's the same as the Saturday 1-day price at the door. July 1st they bump up to $40 for pre-registration until January 1st, 2014 when they settle in for $45.

2014 is going to be a special blend of your favorite events, new features, and fantastic flash-back events that you may have missed from the past nine years!

To buy your badges today while you've still got All-Con fever, click here.

For those people who volunteered 8 or more hours in 2013... Ha! Your badge is FREE! You earned it! If you want to learn more about volunteering at All-Con to get free badges, prizes, food, and fun visit the volunteers page here.

350 days until All-Con! Start your costumes early!
---
---

---







2,100 bages left for 2014. Last Update: March 15, 2013.


<!img src="/2014-Crowne/layout/layout2_13.gif" width=15 height=29 alt="">