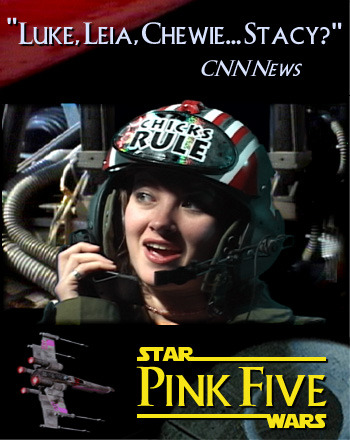 All-Con selected for the national Pink Five Sneak Preview. Pink Five is a world famous Star Wars fan film that set the standard for all fan films that came after. It was first released in June 2002 and went on to be the 2003 winner of the "George Lucas Selects Award" at The Official Star Was Fan Film Awards. As part of the prize, Trey Stokes (creator/director) travelled to Skywalker Ranch, where the film was remixed at Skywalker Sound. The film was also featured on CNN, and became one of the most popular downloads on Ifilm, Atom Films and TheForce.net drawing millions of hits on these sites.

Encouraged by the positive response, Stokes brought the character of Stacy (Pink Five) back for a sequel, Pink Five Strikes Back, in May 2004. Pink Five was shown at the 2005 Cannes Film Festival. In 2006, the first installment of the third episode in the Saga Return of Pink Five was released.

To give you an idea of the popularity of the character of Stacy/Pink Five, she has appeared in the 2007 Star Wars novel "Allegiance" making her one of the few fan created Star Wars characters ever to become part of the Expanded Universe. She has her own Topps trading card in the 30th Anniversary Fan Film Trading Card Set. An original Pink Five poster appears in The Star Wars Vault by Steve Sansweet. And in 2010 Time listed it in the top ten Star Wars fan films of all time. Throw into that mix that Stephen Stanton is the other star of this fan film playing Old Ben Kenobi and Emperor Palpatine. Stephen is one of the mainstay actors on the current animated Star Wars: The Clone Wars television series.

The final episode was never completed. So a Kickstarter was launched and raised over $28,000 from loyal fans and supporters from around the world in order to finish the film. All-Con will be the first Sneak Preview of the finished Saga.